One week ago I was on my Iron Girl adrenaline high. I was feeling invincible and craving protein after my all out effort through the lake, the hills, and the path toward the finish line. Talk about finding inspiration.  Inspiration was everywhere.
Today I sit patiently, waiting for my body, my elbow to get the message after having had minor surgery, that it is go time again. The inspiration that I had one week ago, has found a home somewhere else, making room for an impatient and stir crazy me.  I do not recover well….I feel like a caged animal wanting things to heal faster…so that I can get back to my routine. I became cranky soon after (right away) my surgery much to the chagrin of my mom who was here helping, Rocket who would have turned the world upside to help me had I let him, and Principessa whose over the top energy…was too much to handle without a good workout.
So I did what I thought would help…I went out onto our sunny post-hurricane porch, with a stack of magazines, ready to find inspiration. I thought that since I could not workout, now would be a good time to read things like Self or Fitness…..with articles that would inspire, motivate,  and help me mentally get back on track prior to being given the "okey dokey" from my doc later this week.
The end result of my afternoon reading sojourn was a giggle.  Because according to these two magazines, all I had to do was follow their directions and I could…..
"Go from Heavy to Hot!"
"Do what you love and get paid for it!"
"Look great naked"
Get "All Day Energy in One Easy Step"
"Cheat, drink, & still shrink"
Well geez, if I had know that life could be that easy I would have signed on the dotted line a long time ago. Who needs inspiration when you can follow some simple recipes and achieve amazing results in no time flat.
The articles inside the magazines were filled with a balance of feeling good…be yourself, be happy, laugh a lot, love a lot, blah blah blah.  To be fair, they highlighted the stories of real people, with real experiences…and so yes….fine….maybe just maybe, if I follow the workouts I can learn the "#1 way to Erase 8 Pounds." or get "Flat Abs Now."
But um…..if it were really that easy, do we REALLY think that TWO magazines, in the SAME month, would spend so many pages and so much time devoted to these things?
It is not that easy.
Maybe it could be that easy….maybe if….
….I had a trainer. As in, I want someone each day that will run me through the workouts like they do on the Biggest Loser. Someone who will yell at me and push me until I want to throw up from the effort.
….I had a personal chef who will make all of these wonderful low calorie, high fiber, good for me meals each day.  Also, if that chef could fit in my pocket and be there when I am craving something sweet…so that they could whisper "no, no no…don't do it!"  in my ear.
But instead, I am here. In my reality.
Knowing that I have a half marathon in five weeks that is ready to kick me to the curb if I am not ready.  Knowing that I have worked hard, and an proud of all that I have done….but that I have more to do. Knowing that "I am Enough" but still want more.  Knowing that I cannot wait until Friday when the doctor gives me the thumbs up to get back on my bike or into the pool.
So thank you Self and Fitness magazines for bestowing your wisdom, your tricks, your tips, and your attempts to be inspiring…..but I have my own story, my own truths, my own inspiration.  And if I need inspiration from somewhere else, I know just a "few" blogs or people on twitter that have their own stories.
Ooh—now there is an idea for a great Self or Fitness magazine article…"Stories of Inspiration from Across the Blogosphere." —that is one article that I would gladly read. 
xo
Elena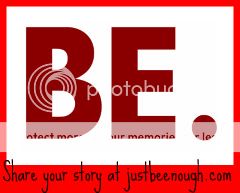 This post is a Be Enough Me inspired post.  We are fighting cancer with the help of two incredible partners: Bellflower Books and Crickett's Answer for Cancer. For every 20 link ups received this month, Bellflower Books will donate a $75 certificate toward a 20-page memory book to a family identified by Crickett's Answer who are fighting the good fight against breast cancer. Our goal is to be able to provide ten women the opportunity to receive a special book created by family and friends that will be treasured not only by the brave women fighting, but by their families as well