What is the hardest thing you have ever done?
At its core, this question does not seem difficult. My answer should be easy. My answer should be that beating cancer was the hardest thing I have ever done.
Except that it is not. Life is hard. Every single part of it. Even the good things in life can be hard.
So instead of writing about the hardest thing I have ever done, I decided to focus on the top five easiest things I have ever done.
Five Easiest Things I Have Ever Done
Deciding to leave teaching to focus on freelance writing and social media. Yes ok, taking the plunge to actually make significantly less money and put myself out there in a space where there are so many voices…not easy. Except that having the opportunity to pursue this passion, to pursue the idea of Live.Do.Grow….easy. So very easy. My heart made the decision for me.
Getting divorced. Admittedly, I almost thought about writing about my decision to get divorced as the hardest thing I ever did. Except that the more I thought about it, I realized that in the end, it was a decision I came to easily, it just took a long time accepting that I could really do it. For me it was all about thinking about Principessa and what model of love I wanted her to have as she grew up. Once I made it about her instead of about me, it was easy.
Holding my daughter's hand. It goes without saying that this should be easy. But as I have walked the streets of Italy over the last month with Principessa, I have held her hand a lot. I have watched her. I have listened to her. She has grown into a very mature (albeit still whiny) young lady that makes the at times funniest and at other times poignant comments. I am proud to hold her hand.
Deciding to run my first marathon. A friend suggested it. The voice of my oncologist rang in my head as I thought about it. And I signed up. Easy. It was not until once I started training that the hard part came in.
Speaking multiple languages. Fine yes, I struggled at times in college with the various Russian verb tenses and I still make pronunciation mistakes in Italian despite it being my first language. But as I watch Principessa understand the Italian that is being spoken around her, and yet almost refusing to speak it back (a story for another time), I am thankful that languages came easily to me. Maybe it is because I started young. Whatever the reason, I know that this is not the case for everyone and I am incredibly thankful.
Five things….that were easy. Because in life, easy does not happen often. It is hard to focus on the easy because often times, it is clouded over with "hard." But when it is easy, it needs to be appreciated, recognized, and valued.
Live.Do. Grow. Hard, easy….every step is worth it and makes us who we are.
What about you? What has been easy? Or if you would rather, what has been hard?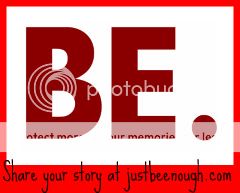 Just.Be.Enough. wants to know… what was the hardest thing you have ever done?