Taking control of my fitness.  Going Back to Weight Watchers. I can do it.  This will be the time.  No more broken records.
I have written all these words, recently in fact.  And yet, here I am. In March.  Not fit. Not healthy.  No progress.
The truth is that this time, it has not really been my fault. I have not been a voluntary slacker.  I knew that my plans to gear up for my first international distance triathlon this spring were going to be sidelined by a now precariously tentative March hysterectomy.  I knew this and had planned on doing everything I could to go into my surgery and one month post surgery mandated hiatus from working out, strong. Strong and fit.
I had a good start in January. Rotating between indoor bike trainer, the treadmill, Physique 57, and some Xbox Your Shape Fitness Evolved workouts, I felt good.  I lost 5.4 pounds due to diligent portion control monitoring and tracking with Weight Watchers. I was not working out every day, but I was  I was building a good foundation for good habits, at a manageable and sustainable pace.
And then….February happened.  A virus.  A bug.  Fever. Stomach woes.  And then, now….pneumonia.
Not strong. Not fit.
To say that I am frustrated would be an understatement.  I look back at my workout calendar and see the blank days, blank weeks with sadness.  I look at my Weight Watchers online tool and tracking calendar and see weeks of solid tracking followed by weeks of zero tracking.
I have watched on facebook as friends have run half marathons and 5ks.  I have followed along on the adventures of the Disney Half Marathon, earning their princess status along with personal best times.
I could have gone to Weight Watchers to weigh in last week, and walked away with an almost six pound loss…attributed only to the fact that for two weeks I only ate soup due to a non existent appetite.  But I decided that was counter productive.  As my appetite has come back, I have allowed myself to eat without tracking, thinking that my body needs whatever I can get into it.
Yes, I know…there is always tomorrow, next week, or next month.  And yes I know, I have to be healthy to be strong and fit and in the long run, this is only a blip on the radar.
But the truth is that I have played this mental game with myself SO many times.  Over and over.  This year feels particularly hard in part related to my upcoming surgery. The upcoming surgery that may be postponed if this round of antibiotics does not work quickly enough.  The upcoming surgery whose outcomes  I had finally accepted as my new reality.
So yes, I could continue with my "woe is me" lamenting.  I have let myself feel sorry for myself and be sad because my body is not cooperating with my plans…my vision of being strong and fit in 2012. But the truth is that none of that is helpful, or productive.
Instead, I will do what I do best. I will set new goals. I will give my body the time that it needs to heal so that when I am ready, I can start again. From scratch instead of with my perceptions of what I should be able to do.  I will set my sights on new events, new races, and the long run.  I will visualize reaching my lifetime goal weight, not because I want to wear a certain size of clothing (though that is not a bad outcome) but because I want to feel lean and strong.  I will visualize finishing a fall triathlon and maybe a 2013 Disney half marathon (because seriously, what could be more fun that running through a Magical Kingdom).
And in the end…I will remember the words of DetermiNation coach Jeff Delaune (shared by Renee Ross) that remind me to  "Enjoy the mile" that I am in. Right now, I will force myself to enjoy a mile that is a scenic look outside my window instead of from the perch of my bike on a local path.   It may not be where I wanted to be, but it is where I am. The best that I can do right now is to take care of me and know that my mile will look different soon.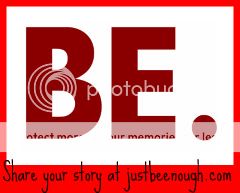 Every MONDAY join us…
Write, Post, Link-Up, share your story and your voice.
Be part of carrying the weight of confidence, empowerment and share our mission to empower, inspire,
and remind women, parents and children
that the time has come to celebrate ourselves!
What gives you that "be enough" feeling?