This is not how I expected the year to end.
Feeling warm, flushed….yet having no temperature.
Feeling disoriented, distracted, disorganized, and forgetful.
Feeling quick to pounce, and not in control of the flood gates that are my eyes.
Feeling agitated and restless.
Feeling too lethargic to workout, too fatigued, too spent.
I thought that my 37th year of life might be the year that I conceived another child.  Not the year that came face to face with menopause.
And although my head knew it was a possibility, I never thought that I would be facing a new year, preparing to change my body forever in one foul, laparoscopic, swoop.
They are just organs. I have my health.  It will be better afterwards.
I know this all to be true.
But I am in mourning.
I am not ready.
I  had big plans for 2012.  I still have big plans.  I just may not be able to get to them all.
xo
Elena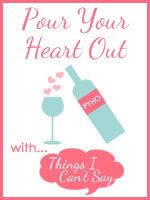 Linking up this week with Pour Your Heart Out and Just Write.